HSE Management
Safety First!
Safety is considered as everyone's responsibility in Jereh. Everyone shall be responsible for the safety of himself as well as the others. To achieve the target of ZERO record Incident, pre-operation safety meeting is held before service to identify the existing risks and take preventive measures. Monthly safety meeting is held to review the safety situation with safety knowledge sharing. Every Jereh employee will be given a "Stop Card" signed by the General Manager and authorized to say "No!" to any unsafe acts. Moreover, safety performance targets are set for every department and employee with incentives and penalties. Jereh is committed to ensuring personal health and protect life without any injury. Safety always first!




HSE Committee
Jereh has a senior HSE management committee which is responsible for all HSE policies and guidelines to develop occupational health, safety management, labor rights and environmental protection. For example, Jereh has set safety performance targets for every department and employee with various awards including monthly HSE award, annual advanced HSE individual award, annual excellent safety supervisor award, annual advanced HSE team award, and annual HSE goal achievement award. Through awarding the excellent employees and teams, the company aims to strengthen the HSE awareness of all the staff and to achieve our target for Zero RI.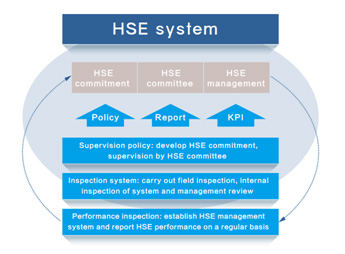 HSE Honors
Relying on its systematic management system, Jereh continually wins perfect performance in its QHSE. In 2009, Jereh won "Safety Ownership Award" and "Spirit of Performance Award for Safety Excellent Team" by ConocoPhillips. In 2011, Jereh also won "Safety Excellent Award" granted by ConocoPhillips. In 2014, Jereh participated in the United Nation Global Compact, which demonstrates Jereh's commitment in the areas of human rights, labor, environment and anti-corruption.


| | | |
| --- | --- | --- |
| Participate the UN Global Compact | Safety Ownership Award | QHSE Commitment |


HSE Management Principles
◆Our first goal is to keep personal health and life away from injury;
◆Protecting environment is our responsibility and our foundation for sustainable development as well;
◆We should use resources and energy in an effective way to provide product and service;
◆We should systematically manage the performance of heal th, safety and environment and ensure relevant laws are complied;
◆We should set up goals for improvement, measurement , assessment and reporting of our performance;
◆We should urge contractors to serve Jereh in accordance with the HSE performance of this policy; We should carry out dialogue and communicate with our neighbors and the community where our business is; and
◆We should evaluate employees' HSE performance and give awards to those who perform well in HSE.