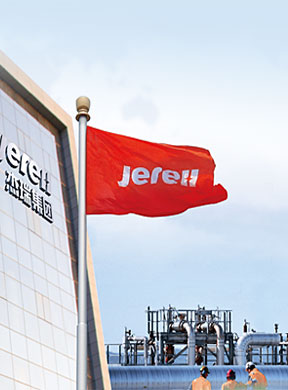 Founded in 1999, Jereh Group is an oil and gas company specializing in oil and gas engineering, oilfield technology services and oil and gas equipment manufacturing. Headquartered in Yantai, China, Jereh owns 5300 people working globally in 20 subsidiaries and has established 7 industrial parks covering an area of 757 acres with 18 overseas branches around the world. Today, Jereh's best solution and technology have served customers in over 60 countries.
  
Jereh Oil and Gas Engineering Corporation is a wholly owned subsidiary of Jereh Group. Underpinned by its years of experience in oil and gas equipment manufacturing and modular fabrication, Jereh has demonstrated leading edges in natural gas treatment and LNG production. With its global sales, services, procurement network, Jereh is committed to becoming a world leading integrated engineering services supplier covering consulting, design and construction (EPC) services in three to five years, which is specialized in oil, gas and water treatment, metering, separation and transportation; crude oil dehydration, desalination and desulfurization; waste water and sludge treatment, natural gas dehydration and dehydrocarbon, sulfur recovery, natural gas transportation, LNG and CNG production, and unconventional oil and gas field development etc.

  Jereh has also established a systemic QHSE management system, which has been approved and certified by ISO9000, ISO14000 and OHSAS 18000 etc. We believe our top-quality, safe and reliable service and product will help customers get better returns.