STG+ Product Brochure.pdf
Jereh Group, an international, integrated oil and gas company specializing in Oil and Gas EPC services, oilfield technology services and equipment manufacturing, and Primus Green Energy, a gas-to-liquids (GTL) technology and solutions company that transforms natural gas and other hydrocarbon gases into gasoline, methanol and diluent, teamed up to jointly deploy a range of flexible, robust and modular GTL systems to our global customers for gas monetization.


What Are The Challenges For Gas Utilization?
1. Associated gas flaring, waste of valuable resources and a critical threat to the environment
2. Stranded gas at wellsite due to the lack of pipeline infrastructure
3. Syngas from underutilized reformer or gasifier
The Jereh-Primus team offers a range of flexible and robust GTL systems to meet the increased demand for gas monetization. Our advanced solutions are available on a single-vendor EPC basis for all scales.

The Jereh-Primus GTL solution is unmatched in the industry for simplicity and profitability thanks to its:

Flexible feed gas requirements
Proven GTL technology
Modular design and fabrication

Standard package for quick delivery
Global sales, execution, and post-project support
Integrated EPC solution
How The STG+™ Gasoline Process Works
The Primus Gas-to-Liquids process takes place in a continuous gas-phase closed loop, with no intermediate condensation steps.
Gas-to-Gasoline Process

Steam Methane Reforming - Natural gas or other hydrocarbon gas reacts with steam at a high temperature and pressure to produce syngas (CO and H2).
Syngas-to-Gasoline - A series of catalytic fixed-bed reactors convert the syngas into gasoline and water via methanol and dimethyl-ether intermediates.
Liquid/Gas Separation - The products are cooled and condensed. The gasoline product is sent to storage; the water is reused to make steam for the reformer; and the unconverted gas is recycled, with a portion being used to fuel the system.

Gas-to-Methanol Process

Steam Methane Reforming – Natural or other hydrocarbon gas reacts with steam at a high temperature and pressure to produce syngas (CO and H2).
Syngas to Methanol Reaction – Syngas reacts in a catalytic fixed bed reactor that converts the syngas to methanol.
Distillation/ Separation – The water/methanol mixture is separated from other gases, and then fed to a distillation column system that is designed to meet the user's methanol purity requirements. On-spec methanol is collected from the top of the column, water is reused to make steam for the reformer and off-gas is recycled as feed or fuel to the reformer.
Best In Class GTL Solution
Compared to other GTL technologies, our STG+™ solution has the following advantages:
Low cost modular design
Cost effective at gas flows as small as 4 MMSCFD (100,000 Nm3/d)
Single finished product stream
100% standard components
Long catalyst lifetime
Accepts CO2 in feed gas, up to 25%
Accepts variety of feed gas types (wellhead, pipeline, wet, dry,…)
Incorporates syngas directly from steam methane reformer, no shift reactor is needed

No gas pretreatment needed
No product post-treatment needed
No wastewater or other waste streams
No intermediate condensation steps - Entire process takes place in a gas-phase continuous loop

Project Support At Every Stage
Our team works with you to develop GTL project solutions. We offer:

Engineering & Technology




R&D and demo plant with long term post-project support
World class engineering from US and China offices
Latest engineering software
Design to various international standards

Project Management




Single point responsibility for complex projects
Dedicated project team through life of project
Strong scheduling and cost control
Liaise with all stake holders for maximum positive impact

Modular System




Skids fabricated and tested at central location
Easy assembly at site for aggressive schedules
Easily deployed to remote locations

Procurement




In-house production and quality control on catalysts
Global sourcing to ensure most competitive project solution
Logistics: Ensure best solutions for fast, safe delivery
New vendor approval system
Independent inspection and quality control
Integrated software for efficient office and on-site procurement

Construction & Erection




Meet each customer's specific needs
Contracts with local service providers
Overall responsibility for construction and erection
Provide technical support and site audit

Training, Commissioning& Startup




Training at GTL demo plant in New Jersey, USA
Classroom and on-site training
Technical leadership during plant commissioning and startup
Stabilize the plant to reach commercial production
The Leading Choice For Gas Monetization
Why Choose The Jereh-Primus Solution?
Single vendor solution to client on an EPC basis
Best in class Gas-to-Liquids technology
Guaranteed delivery and performance gives peace of mind to client
Global network for sales, delivery, installation, commissioning, startup, and post-project support

Strong presence in O&G industry
Pre-engineered, modular plants fabricated offsite enable rapid delivery and short construction time
World-class fabrication, engineering, and project delivery capabilities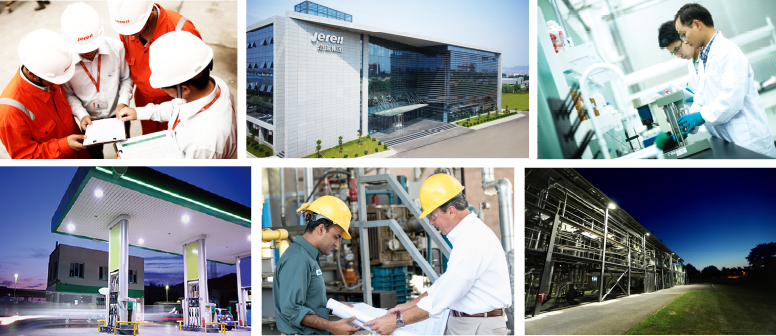 Please contact us if you have any requests.
E-mail: gastoliquid@jereh.com